What Is The Memrabel 3?
The Memrabel 3 is a multimedia alarm clock. The Memrabel will display the time like a normal clock, there are options for which clock display you prefer. You can easily set alarms to go off at certain times and intervals i.e. Daily, Monthly, Weekly, Yearly. When the alarm time is reached, the Memrabel 3 will display high quality multimedia content on its full HD screen. This could be a video, some audio or an image. You are free to add your own media, there is a also an online app to allow you to record videos and take pictures and send them to your Memrabel over the internet ( Requires subscription ). Media can also be added with a USB drive. So for example, at 1pm everyday, display an image with: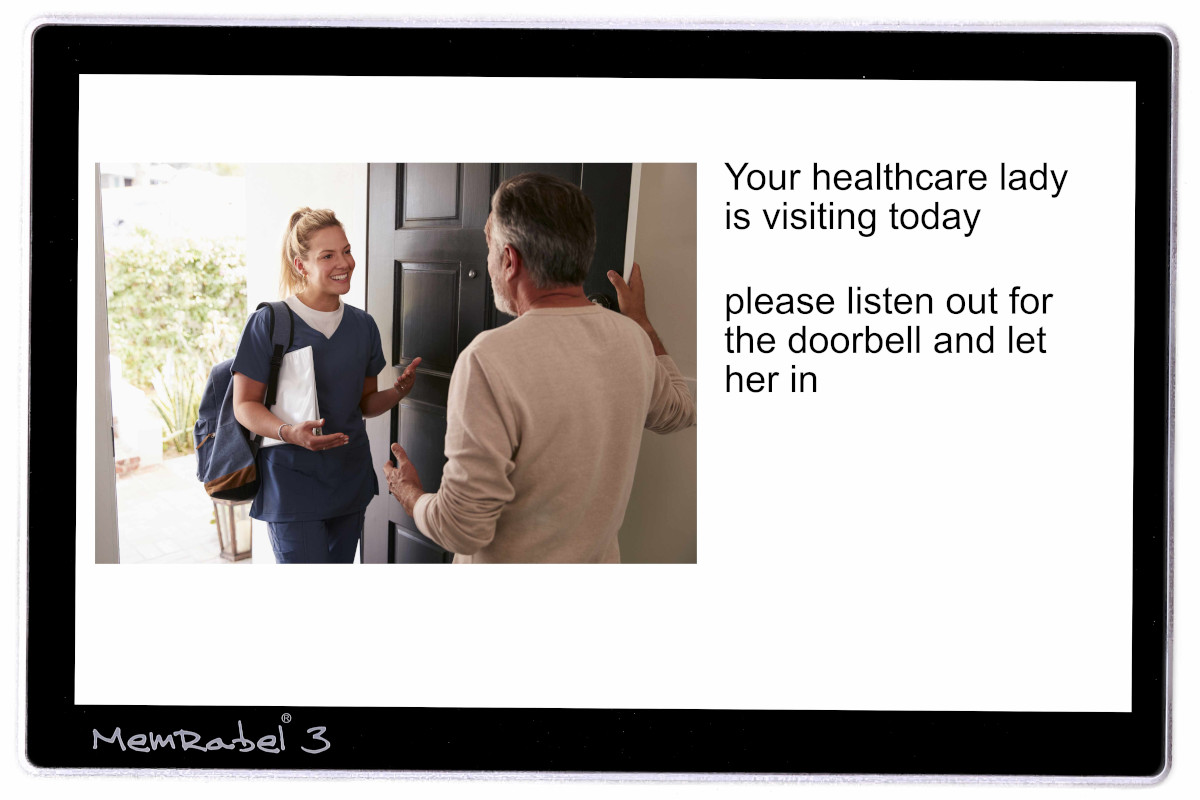 The alarms are easy to setup, with a wizard to guide you through every step of the way.

The Memrabel 3 can also display a slideshow, if any alarms are set, they will still play and will return to the slideshow afterwards. This is great for displaying pictures of family and friends during the day. Music can also be played, there is lots of storage for MP3s of favourite music.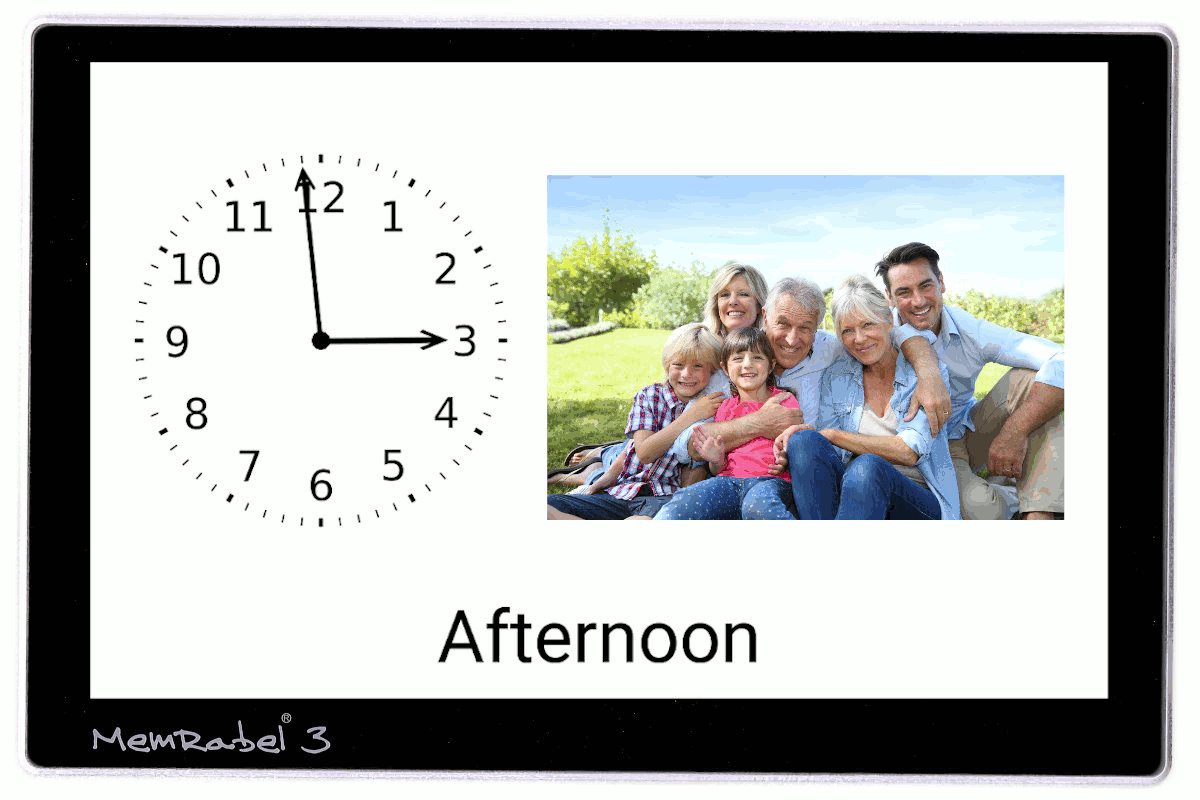 Using the Memrabel Dashboard , you can easily send a text message that will come up on the screen at the time you select, for example Hi Mum, I shall be round at 2pm. You can add a picture to this also: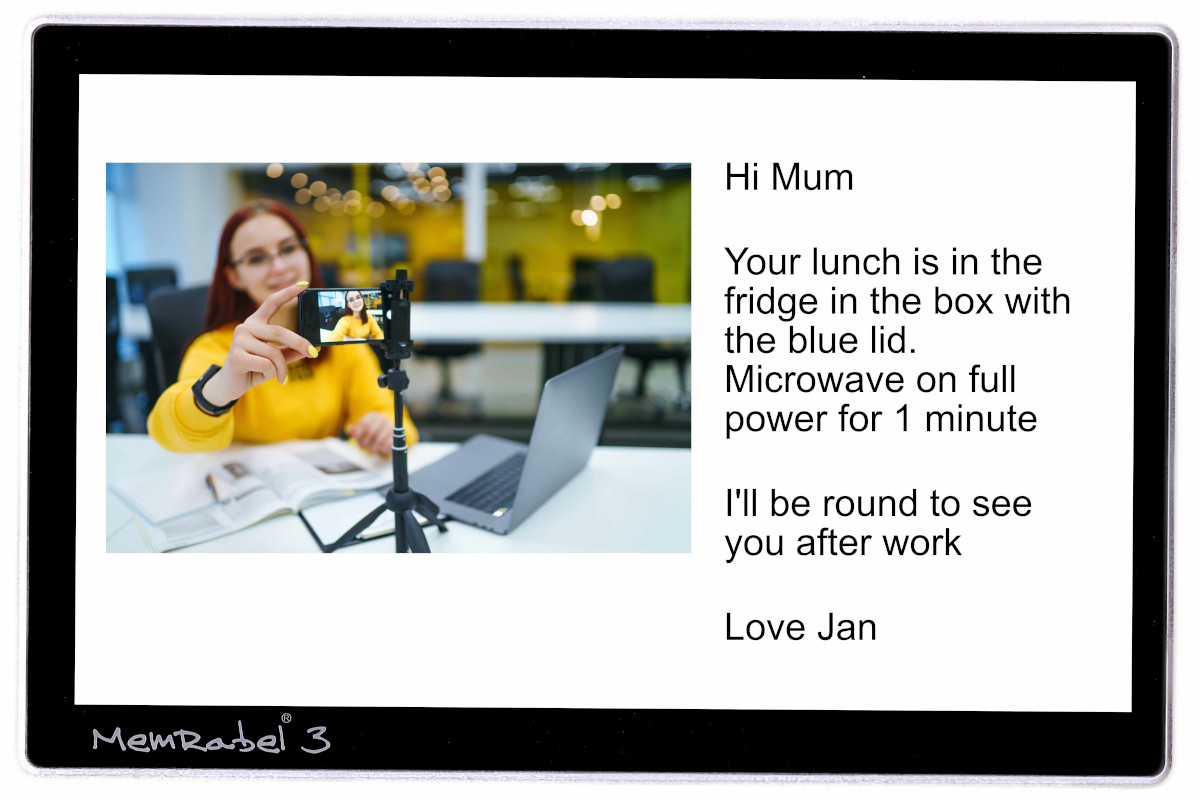 Applications For The Memrabel 3
✓
Dementia
✓
Learning difficulties
✓
Cognitive impairment
The Memrabel 3 has many applications. Alarms can be set to maintain a daily routine:

Breakfast
Lunch
Dinner
Medication Reminder
Birthdays
Doctors appointment / carer visit reminders
Play music
Send text or video messages with the online app ( Requires subscription )

The messages can be easily changed. The Memrabel Dashboard can be used to manage the alarms, so they can be edited, deleted and new ones created from anywhere with an internet connection.

Key Features
Timed playback of personalised video
Timed playback of personalised photos with text
Timed playback of slideshows
Touch screen alarm time memory prompt set up
Plan a daily routine with video instruction
Manage medication reminders
Create and control timed playback of family or memory prompting slideshows
Choice of clock face and colour
Daily repeat medication course setting (for 8 days as example)
Easy music player upload a favourite playlist of music
Assign your videos to a touch tile for easy playback
Create carer instruction video for one-touch playback
Connect to internet for free software updates (optional)
Simplified alarm memory prompt set up wizard
Media file copy wizard from Flash Drive
Memory prompt alarm files arranged for easy view and edit
Night mode display dimmer use setting menu to select screen dimming time
Touch screen music player with play/pause/resume/shuffle/stop
Touch screen memory prompt media file playback stop
Hearing impaired visual alarm notification
Alarm countdown alternates screen from black to white with numbers descending from 10 to 1 preceding prompting alarm playback
Choice of user interaction level with screen passcode lock
Over 100 stock reminder files pre-installed for simple memory prompt creation
Automatic free software updates when connected to home or business Broadband
Technical Features
Display screen dimensions: 220 x 140mm
1080p Full HD display (1920 x 1200)
Capacitive touch screen menu navigation
Power: 5V DC mains adaptor
Connectivity: Wi-Fi 2.4/5GHz
Inputs: USB/SD Card (supports up to 128GB)
Outputs: 3.5mm Stereo headphone jack socket
Audio output: 2 x 2W RMS
Lockable memory prompt alarm volume
User adjustable music volume adjustment
Menu Access: Touchscreen & rear menu buttons
Power consumption +/- 1W
Note: MemRabel MR3 is supplied as a fully functioning daily task scheduling calendar reminder clock (as described), with over 150 pre-installed task prompting videos. The Memrabel does not require the Memrabel Dashboard to function and can operate without it. If online connectivity is required, then a Memrabel Dashboard subscription will be required. This will allow alarm settings and media transfer through our web service. The annual cost for this service is £49.95, currently on offer at £29.99 per year. Supported devices are desktop computer, tablet and smart phone (internet connectivity required). You will receive information on how to purchase a Memrabel Dashboard subscription when you purchase the Memrabel 3.

Click here for more information
MemRabel 3 Touch screen memory prompting alarm calendar clock
Product Code: MR3
Availability: In Stock
Related Products